Solar Eclipse Conference 2014
Announcement

The next Solar Eclipse Conference is scheduled to take place at The Lodge Resort, Cloudcroft, New Mexico, USA the 25th (Saturday) and 26th (Sunday) of October 2014 with a welcome reception at the New Mexico Museum of Space History the evening of the 24th (Friday).

Cloudcroft NM is located to the northeast of El Paso TX near the famous White Sands rocket development and testing area, and the National Solar Observatory (Sunspot).

A two day pre-conference option with advanced topics, partial solar eclipse observations, and BBQ at Sacramento Peak Observatory will also take place. Due to space limitations the optional pre-conference will only be available to a limited number of people.

Registration is closed, please contact conference coordinator Patrick Poitevin for questions or last second cancellations.

Update August 2014:


Registration is closing this month!
Thursday and Friday sessions are full, wait list only.
Transportation between venues will have to be arranged by each delegate. Bus or coach service will not be available.



---
A Crossroad on Physics & Eclipses of the Sun
- from Patrick Poitevin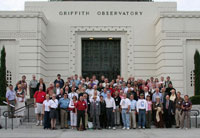 Over the last few decades, there have been dramatic changes in solar eclipse traveling. Solar Eclipse specialists meet most of the time in the shadow of the Moon. Solar Eclipse meetings out of totality are rare, or are mainly focused on solar physics. The Solar Eclipse Mailing List and before the Solar Eclipse Newsletter has been successful as a vehicle in bringing together solar eclipse enthusiast, professionals and amateurs alike. Because there was no central eclipse in 2000 we had been presented with a perfect opportunity for an International Solar Eclipse Conference.
We had had this project in mind for some time, but mainly due to planning eclipse travels it has been put on hold. The aim of the conferences is to bring together professionals and amateurs, addicts, enthusiasts, and chasers, as with the mailing list and the newsletter, sharing information, knowledge, and experience. For the same reason we organized an international Solar Eclipse Conferences in 2004 and 2007.
Two days of lectures are given in each of the disciplines: predictions, mathematics, solar physics, weather forecasting, eye safety, diameter measuring, edge and central, and ancient eclipse research. Of course the latest and forthcoming solar eclipses should be great topics of discussion, along with the once-in-a-lifetime Venus Transit. Friday evening is a social event with reception and informal meetings. And where possible the conferences is combined with a lunar eclipse, partial solar eclipse and a visit to a solar observatory.
The SEC2000, SEC2004 and SEC2007 conferences were organized by Patrick & Joanne Poitevin. Each conference has been supported by various groups and individuals. We also would like to thank those participants. Without you all it would not have been possible! The last international Solar Eclipse Conference (SEC 2011), was organized by SPACE, New Delhi, India.
For information on SEC2014, please contact patrick.poitevin@yahoo.com

Previous Solar Eclipse Conferences archive

---
Details for the Partial Solar Eclipse 23 October 2014
Local Circumstances of 23 October 2014 Partial Solar Eclipse at Sacramento Peak Observatory
Lat 32.78828N, Long 105.81941W


First Contact - 3:34:21 PM MDT, Altitude 30.4 deg.
Max. Eclipse - 4:45:42 PM MDT, Altitude 18.0 deg.
Magnitude 0.4332, Moon/Sun size ratio: 0.95374 Obscuration 31.46%
Last contact - 5:49:05 PM MDT, Altitude 5.6 deg.

For this region, fall is better, in part because the jet stream is less of a problem, but also because the winds seem to be lighter. Because the wet season is recently ended, the ground has more vegetation in the fall and the blowing dust is not so much of a problem.

Cloud cover map. It is valid for the afternoon in October – and the cloud cover at Sacramento Peak is quite light. Good prospects for the eclipse. - Jay Anderson
Google map with local circumstances calculator

---
Speakers List
Sorted by Last Name. Click on name or title of presentation to view more information.
---
Near by attractions (for Astronomers and Scientists)
JVLA (Jansky Very Large Array) in New Mexico
Archeo-astronomy site Chaco Canyon in New Mexico
Sloan Digital Sky Observatory at Apache Peak, New Mexico
The area is very scenic with White Sands National Monument, Carlsbad Caverns National Park, and the New Mexico Spaceport being in reasonable proximity. By 2014, the Spaceport will be operating suborbital flights by Virgin Galactic. Also, star parties are frequently held at the White Sands Nat'l Monument.
Sacramento Peak would be a very good venue to observe the partial solar eclipse because the eclipse will be in progress at sunset and being on top of the mountain ridge provides a very good western horizon. This area has low humidity and clear, transparent skies. Alamogordo is directly under the observatories at Sacramento Peak and Apache Peak. The weather prospects here in October are generally very good with dry transparent skies. For those not able to join the fully booked Day 1 of the pre-conference at Sacramento Peak Observatory, we have another observation spot available to observe the partial solar eclipse. Please contact us for details.
The city of Alamogordo, population of 35,000, is home to the New Mexico Museum of Space History. Alamogordo is adjacent to White Sands Missile Range and can be considered to be the birthplace of the U.S. rocket technology. After WW2, the U.S. brought Von Braun and captured rocket engineers to White Sands where they launched a series of V-2 rockets. This is an interesting museum with many artifacts from the U.S. space program. See http://www.nmspacemuseum.org/. The New Mexico Museum of Space History is on the edge of the city of Alamogordo. The area around Alamogordo is desert and the mountains above are wooded.
There are ample hotel rooms in Alamogordo and the Lodge at Cloudcroft is about a 20 minute drive up the mountain for those who desire a unique setting on the mountain ridge top. The area around Cloudcroft has dark skies and would be very suitable for a star party, as would White Sands. Several well-known amateur astronomers live in the Cloudcroft area and operate private observatories. The Amateur Astronomers Group (AAG) of Alamogordo are kindly offering a star party at the golf course of The Lodge Resort after the Friday reception and after the Saturday evening dinner. Lights will be switched off, so please bring your telescopes and binoculars.
The closest major airports are at Albuquerque, about a three hour drive and El Paso, Texas, about 90 minutes away. There is a shuttle service available from the airport in El Paso to Alamogordo. (Click here for details.)
A wee bit further away:
Kitt Peak in Arizona
Big Bear Lake in California
Mt. Wilson observatories in California (where we had our opening session for SEC2007)
---
Acknowledgements
Some people I would like to list for a big thank you helping in one way or another with the organisation of SEC2014, so far - in alphabetical order:

Jay Anderson, Derryl Barr, Celestron, Ralph Chou, Fred Espenak, Michael Gill, Shadia Habbal, Bill Kramer, Bill Livingston, Barbara Moore, Jay Pasachoff, Glenn Schneider, Joerg Schoppmeyer, TravelQuest and Michael Zeiler.
Donations received from (so far - in alphabetical order):

Ricardo Alcoser, Bengt Alfredsson, Amateur Astronomers Group (Alamogordo), Jay Anderson, Audie Barnette, Derryl Barr, John Beattie, Stephen Bedingfield, Fred Bruenjes, Jens Buus, Greg Buchwald, Keiko Chaki, Ralph Chou, Terry Cuttle, Kris Delcourte, David Dunham, Joan Dunham, Letitia Ferrer, Rick Fienberg (AAS), Lloyd Franklin, Michael Gill, Thomas Goodey, Joel Harris, Jan Hellemans, Steve Keil, Hamid Khodashenas, David Larson, Mark Littmann, Robert Lucas, Mark Margolis (Rainbow Symphony), Robert Minor, Joel Moskowitz, Richard Nugent, Derald Nye, Jay Pasachoff, Luca Quaglia, Robert Ray, Torsten Rothenwaldt, Eckehard Schmidt, Special Interest Tours, Larry Stevens, John Tilley, TravelQuest, Nick Turner, Sheridan Williams, Jen Winter, Michael Zeiler.
And of course the teams of the facilities at Sacramento Peak, the New Mexico Museum of Space History, The Lodge Resort, and TravelQuest's sponsoring the openings reception at the NM Museum of Space History. Last but not least thank you to all speakers who have willingly accepted or proposed to cooperate at SEC2014.
Without you all no SEC2014 would be possible!
Patrick & Joanne
Previous Solar Eclipse Conference archives