---
www.eclipse-chasers.com
Photographing Solar Eclipses - Travel Packing
Author: Bill Kramer
Last update: Saturday, 18-Apr-2015 18:54:01 EDT

---
Travel Packing for a Solar Eclipse
You will find a lot of information and advice on travel packing from multiple sources. Selecting the right clothes, preparing for the weather, dealing with wrinkles, and other such considerations are a matter of preference and style. When it comes to eclipse chasing the real goal is to get your cameras and optics to the eclipse zone and safely back again. For that I've got a few tips based on my own experiences.
Carry it on: I cannot emphasize enough that you should carry your camera and telescope gear with you. By carrying these items you avoid possible theft, damage, and delays. Tripods are about the only exception because of the size involved. In most cases the optical equipment cannot be replaced or repaired during the eclipse travels - but clothes can. You might have to "go native" until your luggage catches up but at least you can still enjoy (and photograph) the eclipse.
Contingency: The tripod does present a risk when packed. It may not arrive at the destination with you. The best solution is to have a contingency plan. If travelling to an area frequented by tourists you might be able to locate a camera store with a suitable tripod in stock. Otherwise the best insurance is to have a plan in case it does not arrive with you.
Extra batteries: Modern cameras use batteries and you will want to have a spare set on hand. Also, don't forget to carry the charging aparatus with camera equipment that uses rechargable batteries. It can be very frustrating to have dying batteries when you luggage does not appear.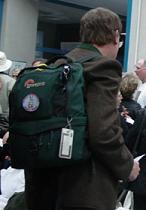 Padding: When I pack my backpack full of camera and lens equipment I toss a change of clothes inside as well. Select the clothes that can get bunched up and survive without wrinkling too bad. Not only is a fresh change of clothes nice to have when travelling longer distances in a short time but it makes for an excellent cushion for the camera optics.
Education: Plan to spend a few minutes explaining the contents of your carry on bag to the security people. Many of them have never really seen a telescope and will be curious about dense metal objects such as counter weights and solid mounts.
Tools: Due to the henious acts of a few you need to pack tools such a screwdrivers and pliers in your luggage and not carry it aboard airplanes these days. I used to carry a couple "all-in-one" type tools with me but now they go in the checked luggage. These days I put a small tool bag together and pack it away. By selecting cheap, light weight, all-in-one, type tools the little bag of tools does not take up much space. And if lost (stolen) it is not difficult to replace. Also, don't forget the universal repair tool - duct tape.