---
www.eclipse-chasers.com
Photographing Solar Eclipses - Zoom Lens
Author: Bill Kramer
Last update: Saturday, 18-Apr-2015 18:51:56 EDT

---
Zoom Lens Accessories
Any operator of a camera with a zoom capability (one that magnifies the subject) will desire three additional pieces of equipment when taking pictures of a total solar eclipse.
Tripod

to mount the camera is a requirement. When the image is magnified, any movement of the camera is magnified as well resulting in images that are not clear. A tripod will greatly assist in minimizing the movement of the camera caused by shakes, vibrations, and your racing pulse. Longer focal length photography may require the use of a tracking mount, see Mounting for more information.

Cable release or remote control for the camera is recommended. These devices will allow you to take pictures without touching the camera body directly and causing vibrations.

Right angle adapter for your camera. This device attaches where you would normally look through the SLR and contains a right angle (90 degree) prism. When taking photographs of an eclipse high in the sky this device makes for a more comfortable operation.
A right angle adapter is shown attached to the camera at the end of the telescope in the image below. There is also a very solid tripod and a cable release (thin wire extending from bottom of camera body) and motor drives (thicker cable from telescope is for declination control) - all of which were carried to a remote camp in Zambia where the photograph was taken.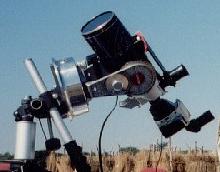 During an eclipse event your heart will be pounding and your hands shaking; a good tripod, cable release, and right angle adapter will be greatly appreciated.
To purchase a cable release or right angle adapter for your camera, contact your camera supplier or look online at the manufacturer's web site. Modern electric cable releases are specific to individual camera makes and models, make sure you get the right one.