Solar Eclipse Conference 2014
Announcement

The 2014 Solar Eclipse Conference took take place at The Lodge Resort, Cloudcroft, New Mexico, USA the 25th (Saturday) and 26th (Sunday) of October 2014 with a welcome reception at the New Mexico Museum of Space History the evening of the 24th (Friday).

Cloudcroft NM is located to the northeast of El Paso TX near the famous White Sands rocket development and testing area, and the National Solar Observatory (Sunspot).

A two day pre-conference option with advanced topics, partial solar eclipse observations, and BBQ at Sacramento Peak Observatory was offered. Due to space limitations the optional pre-conference was only available to a limited number of people.

Conference was October 23-26 2014. See speakers list below for presentation papers, power point slides, and so forth.

Update November 2014:


See Speakers list for papers, slides, and post conference materials.
Eclipse was a grand success. Everyone had a great time at the Sunspot Observatory in NM - a great place to watch an eclipse under beautiful sky.
Coming soon, SEC2018 announcement!



---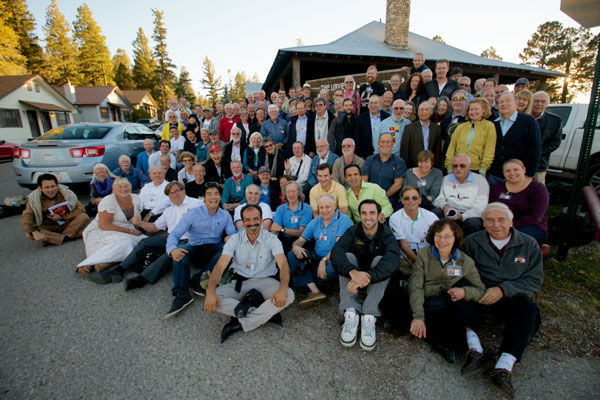 SEC2014 Group. Photo by Nelson Quan


Full Res image by Hamid Khodashenas - 2014 Preconference Sacramento Peak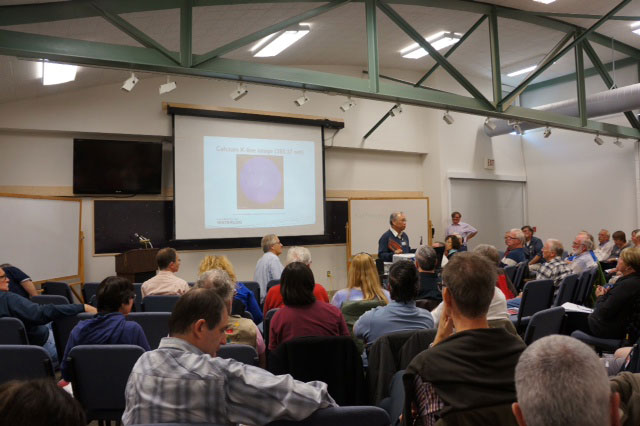 A Crossroad on Physics & Eclipses of the Sun
- from Patrick Poitevin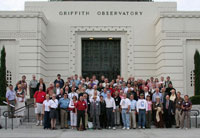 Over the last few decades, there have been dramatic changes in solar eclipse traveling. Solar Eclipse specialists meet most of the time in the shadow of the Moon. Solar Eclipse meetings out of totality are rare, or are mainly focused on solar physics. The Solar Eclipse Mailing List and before the Solar Eclipse Newsletter has been successful as a vehicle in bringing together solar eclipse enthusiast, professionals and amateurs alike. Because there was no central eclipse in 2000 we had been presented with a perfect opportunity for an International Solar Eclipse Conference.
We had had this project in mind for some time, but mainly due to planning eclipse travels it has been put on hold. The aim of the conferences is to bring together professionals and amateurs, addicts, enthusiasts, and chasers, as with the mailing list and the newsletter, sharing information, knowledge, and experience. For the same reason we organized an international Solar Eclipse Conferences in 2004 and 2007.
Two days of lectures are given in each of the disciplines: predictions, mathematics, solar physics, weather forecasting, eye safety, diameter measuring, edge and central, and ancient eclipse research. Of course the latest and forthcoming solar eclipses should be great topics of discussion, along with the once-in-a-lifetime Venus Transit. Friday evening is a social event with reception and informal meetings. And where possible the conferences is combined with a lunar eclipse, partial solar eclipse and a visit to a solar observatory.
The SEC2000, SEC2004 and SEC2007 conferences were organized by Patrick & Joanne Poitevin. Each conference has been supported by various groups and individuals. We also would like to thank those participants. Without you all it would not have been possible! The last international Solar Eclipse Conference (SEC 2011), was organized by SPACE, New Delhi, India.
For information on SEC2014, please contact patrick.poitevin@yahoo.com

Previous Solar Eclipse Conferences archive

---
Details for the Partial Solar Eclipse 23 October 2014
Local Circumstances of 23 October 2014 Partial Solar Eclipse at Sacramento Peak Observatory
Lat 32.78828N, Long 105.81941W


First Contact - 3:34:21 PM MDT, Altitude 30.4 deg.
Max. Eclipse - 4:45:42 PM MDT, Altitude 18.0 deg.
Magnitude 0.4332, Moon/Sun size ratio: 0.95374 Obscuration 31.46%
Last contact - 5:49:05 PM MDT, Altitude 5.6 deg.


Click image for eclipse reports

---
Speakers List
Sorted by Last Name. Click on name or title of presentation to view more information. (* indicates post conference materials)
---
---
Acknowledgements
Some people I would like to list for a big thank you helping in one way or another with the organisation of SEC2014, so far - in alphabetical order:

Jay Anderson, Derryl Barr, Celestron, Ralph Chou, Fred Espenak, Michael Gill, Shadia Habbal, Bill Kramer, Bill Livingston, Barbara Moore, Jay Pasachoff, Glenn Schneider, Joerg Schoppmeyer, TravelQuest and Michael Zeiler.
Donations received from (in alphabetical order):

Ricardo Alcoser, Bengt Alfredsson, Amateur Astronomers Group (Alamogordo), Jay Anderson, Audie Barnette, Derryl Barr, John Beattie, Stephen Bedingfield, Fred Bruenjes, Jens Buus, Greg Buchwald, Keiko Chaki, Ralph Chou, Terry Cuttle, Kris Delcourte, Jackie Diehl, David Dunham, Joan Dunham, Letitia Ferrer, Rick Fienberg (AAS), Lloyd Franklin, Jay Friedland, Michael Gill, Thomas Goodey, Joel Harris, Jan Hellemans, Steve Keil, Hamid Khodashenas, David Larson, Mark Littmann, Robert Lucas, Mark Margolis (Rainbow Symphony), Robert Minor, Joel Moskowitz, Richard Nugent, Derald Nye, Jay Pasachoff, Luca Quaglia, Robert Ray, Torsten Rothenwaldt, Eckehard Schmidt, Larry Stevens, John Tilley, TravelQuest, Nick Turner, Sheridan Williams, Jen Winter, Michael Zeiler.
And of course the teams of the facilities at Sacramento Peak, the New Mexico Museum of Space History, The Lodge Resort, and TravelQuest's sponsoring the openings reception at the NM Museum of Space History. Last but not least thank you to all speakers who have willingly accepted or proposed to cooperate at SEC2014.
Without you all no SEC2014 would be possible!
Patrick & Joanne
Previous Solar Eclipse Conference archives