Solar Eclipse Chasing by Ship
-a list of eclipses observed from cruise ships.


Cruising to see a Total Solar Eclipse at sea is not new. But in the later part of the 20th century it sure got a lot more comfortable.
This web page is a list of ships, by eclipse date, that have been fortunate enough to be under the umbra as it falls across the waters.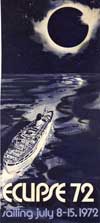 1936 - SS Strathaird in the Greek Islands. Eclipse report. During the cruise, a nova was discovered as well.
1972 - TSS Olympia cruise ship sailed from New York, North Atlantic eclipse intercept.
1973 - HMS Canberra cruise ship sailed from New York, eclipse intercept off the western coast of Africa. Cunard Adventurer viewed the eclipse closer to South America. From the UK, Monte Umbe also off the coast of Africa. From Casablanca, Massalia (a French flagged car carrier), off the coast of Africa.
1977 - TSS Fairsea and TSS Fairwind in Pacific Ocean (Eclipse report)
1984 - Cap du Pain (merchant marine freighter) off the coast of New Caledonia (Eclipse report)
1988 - QE2 (World Cruise) nr. Borneo, RCL Golden Odyssey, Ocean Pearl.
1991 - Viking Serenade, Southward - Sea of Cortez; MS Jubilee off the coast of Mazatlan; SS Constitution 25 miles off the Kona Hawaii coast.
1994 - Sagafjord, Explorer, Regent Sea - off the coast of Brazil, South America
1995 - Orient Line Marco Polo - South China Sea (Eclipse Report)
Setting up on board the Veendam from early morning until first contact
1998 - Fascination, Veendam, Statendam, Norwegian Sea, Dawn Princess, Celebrity Galaxy, Stella Solaris- eclipse intercept at various points in the Caribbean Sea. Cunard Vistafjord in the Pacific Ocean. (Eclipse reports 1, 2, 3, 4)
1999 - Regal Empress in the North Atlantic. Norwegian Sky in the English Channel, Royal Olympic's four ships Stella Solaris, Olympic Countess, World Renaissance, and Stella Oceanis, Marco Polo, Vistafjord intercept in the Black Sea. (Eclipse reports 1, 2, 3, 4)
2001 - Royal Star, Indian Ocean; Atlantic Ocean cruise on the RMS St Helena (Eclipse report)
2002 - Olympia Countess, Indian Ocean off coast of Africa (clouded out) (Eclipse report)
2003 - Kapitan Khlebnikov ice breaker off the coast of Antarctica - (Eclipse report)
2005 - Paul Gauguin, MV Discovery, MV Galapagos Legend in South Pacific (Eclipse reports 1, 2).
2006 - Holland America Prinsendam, Costa Classica, in Mediterranean Sea. Costa Fortuna, and MV Ocean Monarch were also on the Med, farther to the north. (Eclipse reports
2008 - Fifty Years Since Victory, (additional), Russian nuclear powered icebreaker, MV Discovery (fogged out) eclipse intercept in Arctic ocean.
2009 - Paul Gauguin, Costa Classica, Fuji Maru, Asuka II - all in the Pacific Ocean, Costa Allegra off the coast of China (clouded out). Small boat M/V Southern Cross (Nikumaroro Atoll, Gardner Island).
2010 - Paul Gauguin south of Tahiti.
2012 - Paul Gauguin near New Caledonia.

2016 - Holland American Volendam in the Makassar Straight, Indonesia. (YouTube Video)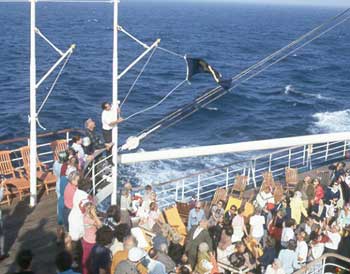 Eclipse Flag raised after viewing the July 1972 eclipse on board the Olympia
---
List compiled by Bill Kramer with lots of help from Michael Gill
You can find out where some of these ships are right now at: Sea Scanner
See also: Solar Eclipse Chasing in the Air